Josh finally agreed to go to Babies R Us with me today to browse and start narrowing down our choices on some big-ticket items. The crib, changing table, and dresser are all decided, which is a huge relief.
Our main concerns right now are carseat and stroller. I have heard time and time again to avoid the big, bulky, heavy travel systems, and I think that advice is pretty sound. I started looking at lightweight, umbrella-type strollers, and also a Snap'n'Go to use with the infant carseat for the first few months.
Then, I found a few lightweight strollers at BRU today that you can use an infant carseat with! Makes needing a Snap'n'Go pointless! Here are our (current) options:
(I'm going to use the Chicco KeyFit 30 in all of these options, because it works with every option we have. Also, the colors in the photos may not be the actual colors we choose.)
Option #1:
Chicco KeyFit 30 infant carseat + Snap'n'Go stroller + Chicco Liteway = $394.97
Pros:
The Snap'n'Go stroller is very light and folds down small, which is nice for my little Honda and for Josh's truck. The Chicco Liteway has great reviews, and also folds down small and is light.
Cons:
Having to store the Snap'n'Go once the kiddo is old enough to sit in the Liteway. That the Liteway can't be used with an infant carseat. Cheap wheels.
Option #2:
Chicco KeyFit 30 infant carseat + Britax B-Nimble Stroller = $379.98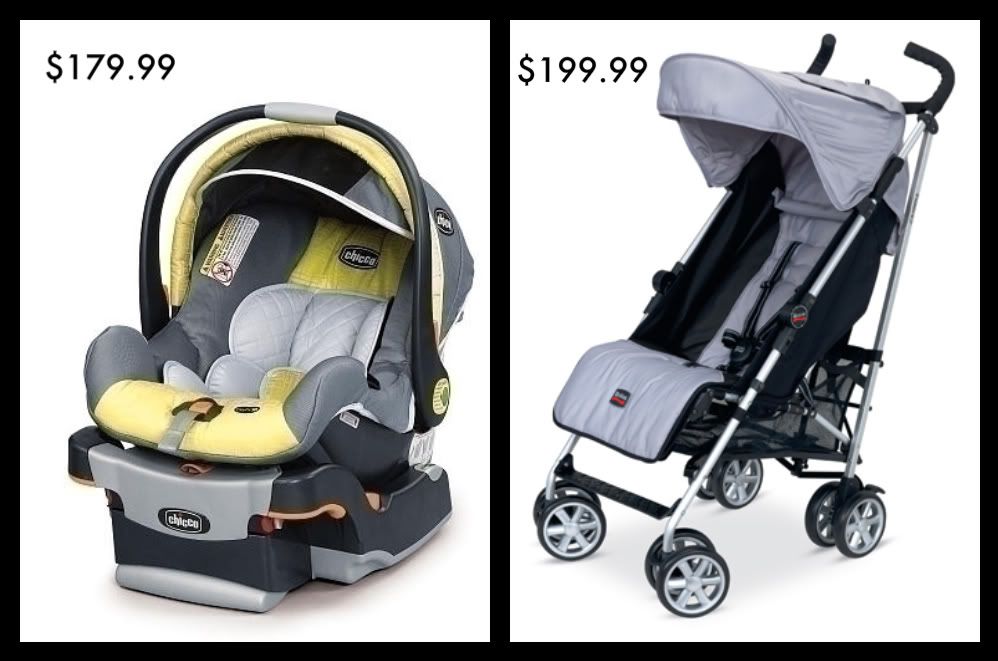 Pros:
The Britax B-Nimble is also very lightweight and folds small. It has the option of using an infant carseat with it, with a variety of brands accepted.
Cons:
The Britax Chaperone infant carseat snaps into the stroller, but other brands use a weird strap system that I don't know if I'm comfortable with. The Britax Chaperone is $20 more than the Chicco KeyFit 30 carseat. Cheap wheels.
Option #3:
Chicco KeyFit 30 infant carseat + Baby Jogger City Mini Stroller = $489.93

Pros:
This stroller has big, solid, rubber wheels that can really hold up on uneven ground. It accepts infant carseats with the purchase of an adapter. Still folds up relatively small.
Cons:
Most expensive option. Not as lightweight as other strollers. Have to purchase adapter for carseat.
I should mention that a family member has graciously offered to purchase the infant carseat of our choice, so that cost really won't be factored into the total cost of our "travel system".
So mommas, what's your opinion?